The times they have a-changed - 50 years of Bob Dylan concerts at the Royal Albert Hall
We've gone back through the archives to find out about legendary songwriter Bob Dylan's previous appearances at the venue.
From heckles and hostility in the 1960s to being welcomed by warm standing ovations in 2015, here's a look back on his concerts here to date:
1965: Dylan's Hall debut
A 23-year-old Bob Dylan made his first appearances at the Royal Albert Hall on 9 & 10 May 1965, soon after the release of his 5th studio album Bringing It All Back Home.
The concerts were the final dates of Dylan's England Tour 1965 – noted as being his last ever solo acoustic tour. A selection of songs from these performances can be seen in D.A. Pennebaker's documentary film Don't Look Back.
VIDEO: Dylan leaving the Hall in 1965 (from Dont Look Back)
1966: An electric return
12 months later and Dylan was back for two more concerts on 26 & 27 May 1966, the final dates of his first full tour with a full electric band backing him.
A recording from the tour was eventually released in 2008 under the title The Bootleg Series Vol. 4: Bob Dylan Live 1966, The "Royal Albert Hall" Concert – however, despite the album's name the recordings were actually made at Manchester's Free Trade Hall.
The live album contains Dylan's legendary confrontation with an audience member who shouted "Judas" at the singer – a sentiment shared by some in attendance who felt betrayed by the folk singer's recent embracing of electric music. Another man shouted "I'm never listening to you again", to which Dylan famously responded "I don't believe you … you're a liar".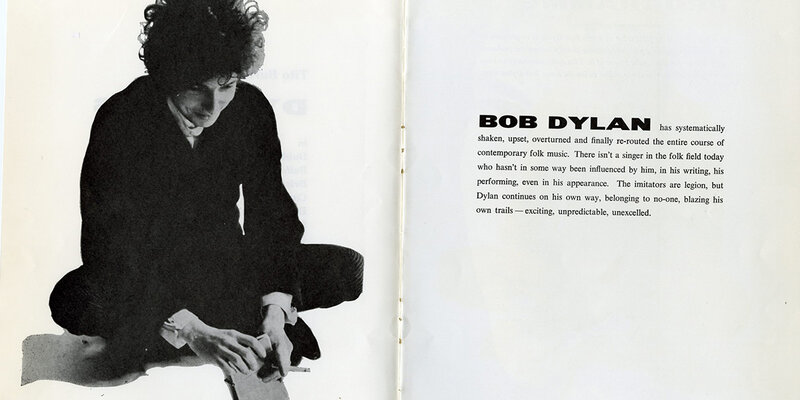 From the 1966 UK Tour programme
Like the other tour dates, the Hall performances saw him open with the acoustic set his fans were accustomed to, before an electric set in the second half. Whilst many fans enjoyed their hero's new direction, there were some who weren't so keen. The Times the next day commented:
'There was a marked and disturbing contrast between the two parts of the concert given by Bob Dylan, the American folk singer, at the Albert Hall last night. In the first, and infinitely better, half of the evening, Mr Dylan gave an agreeable solo rendering of some of the songs for which he is best known: in the second half he was accompanied by the thunderous quintet who made it virtually impossible to distinguish a single line of the lyrics.'
The Times, 27 May 1966
2013: Long-awaited return
Bob Dylan finally returned to London's most iconic venue for three memorable sold-out concerts on 26, 27 & 28 November 2013. In the 47 years since he last took to the stage here, Dylan had secured his place in history as one of the most revered artists of all time, whilst releasing a steady stream of acclaimed albums and performing countless shows on a so-called 'Never Ending Tour'.
With his band, Dylan explored his rich legacy of work in a career-spanning set, which featured delicately adapted versions of classics such as Simple Twist of Fate and Tangled Up In Blue sitting alongside works from his latest album, 2012′s Tempest.
Reviews were a lot kinder in 2013 than for his 1965 shows, with the performances attracting unanimous praise:
★★★★★ "I've seen him [Dylan] plenty of times over the past 30 years. This was the best of them."The Arts Desk
★★★★★ "There were no spotlights to focus attention on individual players. They played as a unit, like an antique roadhouse band transported by some odd wormhole to the plush setting of the Royal Albert Hall." Financial Times
Fifty years after making his debut at the Royal Albert Hall, Bob Dylan returned to play five sold out nights following the release of his chart-topping 2015 album Shadows in the Night (a collection of covers of pop standards made famous by Frank Sinatra). Performing a new set, new arrangements, and new sound, Dylan's extraordinary ability to regularly re-invent himself was proved yet again, and the audience loved it.
★★★★★ "The man is clearly enjoying himself again and has a renewed love not just for performing, but for the song as a storytelling medium." Financial Times
★★★★★ "the ovation from a crowd including Rolling Stone Ronnie Wood was standing and, unusually, Dylan applauded the crowd before sloping off stage. On this form, he's a privilege to watch. This was a legend being legendary." Evening Standard
Setlist
9-10
MAY

1965

The Times They Are a-Changin'
To Ramona
Gates of Eden
If You Gotta Go, Go Now (Or Else You Got to Stay All Night)
It's Alright, Ma (I'm Only Bleeding)
Love Minus Zero/No Limit
Mr. Tambourine Man

Talkin' World War III Blues
Don't Think Twice, It's All Right
With God on Our Side
She Belongs to Me
It Ain't Me Babe
The Lonesome Death of Hattie Carroll
All I Really Want to Do
It's All Over Now, Baby Blue
Setlist
26-27
MAY

1966

She Belongs to Me
4th Time Around
Visions of Johanna
It's All Over Now, Baby Blue
Desolation Row
Just Like a Woman
Mr. Tambourine Man

Tell Me, Momma
I Don't Believe You (She Acts Like We Never Have Met)
Baby, Let Me Follow You Down
Just Like Tom Thumb's Blues
Leopard-Skin Pill-Box Hat
One Too Many Mornings
Ballad of a Thin Man
Like a Rolling Stone
Setlist
26-28
NOVEMBER

2013

Things Have Changed
She Belongs to Me
Beyond Here Lies Nothin'
What Good Am I?
Duquesne Whistle
Waiting for You
Pay in Blood
Tangled Up in Blue
Love Sick

High Water (For Charley Patton)
Simple Twist of Fate
Early Roman Kings
Forgetful Heart
Spirit on the Water
Scarlet Town
Soon after Midnight
Long and Wasted Years

All Along the Watchtower
Roll on John (26 Nov) Blowin' in the Wind (27 & 28 Nov)
Setlist
21-25 October 2015
Things Have Changed
She Belongs to Me
Beyond Here Lies Nothin'
What'll I Do (Irving Berlin cover)
Duquesne Whistle
Melancholy Mood (Frank Sinatra cover)
Pay in Blood
I'm a Fool to Want You (Frank Sinatra cover)
Tangled Up in Blue
High Water (For Charley Patton)
Why Try to Change Me Now (Cy Coleman cover)
Early Roman Kings
The Night We Called It a Day (Frank Sinatra cover)
Spirit on the Water
Scarlet Town
All or Nothing at All (Frank Sinatra cover)
Long and Wasted Years
Autumn Leaves (Yves Montand cover)
Blowin' in the Wind
Love Sick