Dylan Thomas at the Royal Albert Hall
Wales' greatest poet Dylan Thomas performed at the Royal Albert Hall only once, but has been fondly remembered in St. David's Day celebrations and even a BBC Prom in the years since his death. We take a look back at his memorable recital and successive tributes.
Thomas performed on 13 January 1953 as part of Prom Two of the London Symphony Orchestra (LSO) Winter Promenade Concert Series, in-between intensive second and third tours of the USA when he was suffering from ill-health. Three musical works were performed by Schubert, Mendelssohn and Sibelius before Thomas took to the stage to recite Dame Edith Sitwell's 1947 poem 'The Shadow of Cain', accompanied by the male voices of Morley College Choir and broadcast by the BBC.
Dylan appeared on stage but had initially wished not to, as he noted in a letter to Humphrey Searle: 'The whole piece is so hideously dramatic that the sight of a little fat speaker on the stage would, I think, detract from the dramatic value – (though it may, of course, add to the horror).'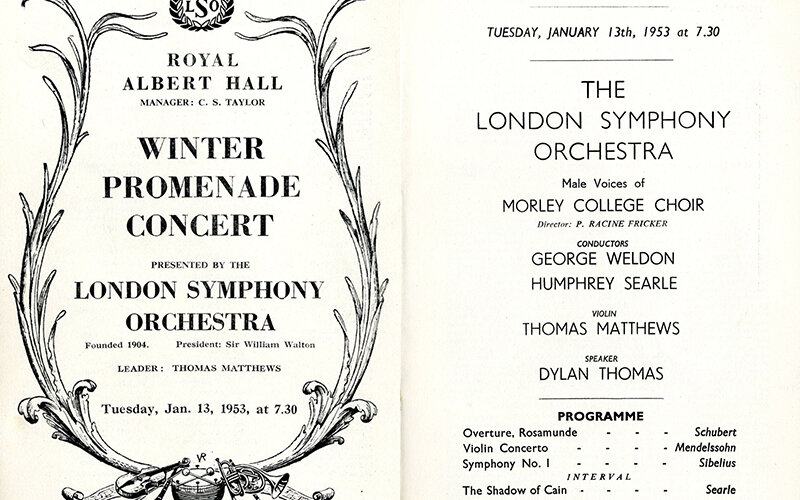 Anti-nuclear sentiment
During World War II, Edith Sitwell (1887-1964) wrote poems about the blitz and other war issues. Most memorable, perhaps, were her 'Three Poems of the Atomic Age', inspired darkly by eyewitness descriptions of the dropping of the atomic bomb on Hiroshima in 1945.
Only four months before Thomas's recital at the Hall, Britain had become the third nation to possess nuclear weapons when it detonated an atomic bomb on 3 October 1952. Given the huge amount of anti-nuclear sentiment present at the time, the choice to recite_ 'The Shadow of Cain', the first of the three poems, is interesting. Sitwell described the poem as '_the fission of the world into warring particles, destroying and self-destructive. It is about the gradual migration of mankind, after that Second Fall of Man…into the desert of the Cold, towards the final disaster, the first symbol of which fell on Hiroshima.'
Tributes to Dylan Thomas at the Hall
In 1957 the BBC Proms showcased the world premiere of 'Symphony No.4 (In Memory of Dylan Thomas)' by Welsh composer Daniel Jones (1912-1993). Performed by the London Philharmonic Orchestra, the piece lasted a little over half an hour. Considered to be one of the composer's finest achievements, it was written in 1954 as a response to Dylan Thomas's death in 1953. Jones and Thomas had had a close relationship since childhood, sharing a zest for life. It was Jones who had written the folk-like music for Thomas' poem 'Under Milk Wood'.
Successive St. David's Day Festivals at the Hall have also often paid homage to Dylan Thomas through the reading of a poem or through music and dance.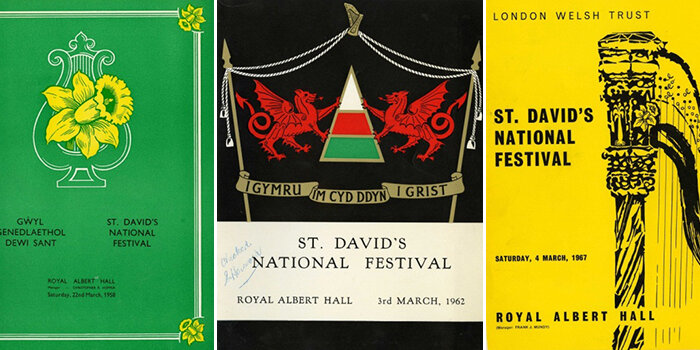 St David's Day Festival programmes – 22 March 1958, 3 March 1962 and 4 March 1967