Sir Winston Churchill at the Royal Albert Hall
Sir Winston Churchill, probably the most famous and revered British Prime Minister in history, was no stranger to the Royal Albert Hall, delivering a number of memorable and significant speeches in his 16 appearances at the venue between 1911 and 1959.

In 1911, during his time as Home Secretary, Churchill made what is likely to be his first appearance at the Hall as a guest at the extravagant Shakespeare Memorial Ball, alongside the then Prime Minister Herbert Asquith and numerous members of European royalty. Several high-profile speeches followed at the venue during his political career, including one on 18 March 1931 entitled Our Duty in India. A transcript of this speech can be found at www.winstonchurchill.org.
Thanksgiving Day, 1944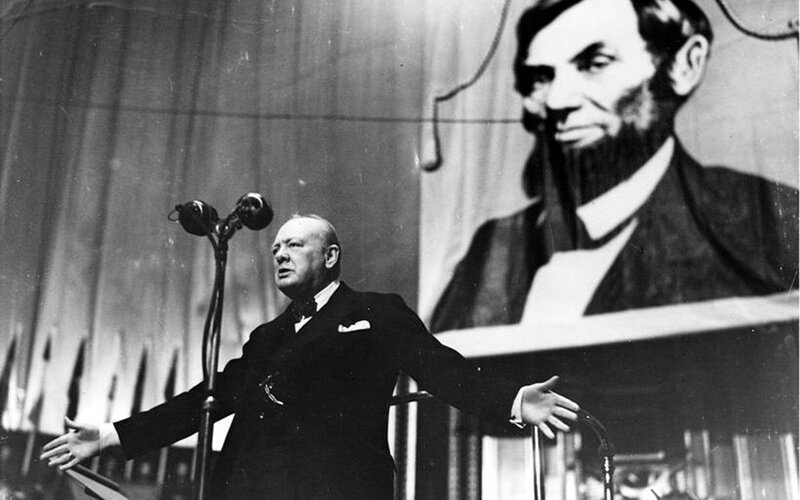 Sir Winston Churchill speaks at the Hall on Thanksgiving Day, 1944
Arguably the most significant speech that Sir Winston Churchill made at the Hall was at an event celebrating the American Thanksgiving Day on 23 November 1944 entitled 'To You, America' – A Thanksgiving Day Celebration, which was held in aid of King George's Fund For Sailors.
Taking to the stage in front of a packed auditorium, the Prime Minister spoke of America's military might and involvement in the war, declaring:
"We have come here tonight to add our celebration to those which are going forward all over the world, wherever allied troops are fighting in bivouacs and dugouts, on battlefields, on the high seas, and the highest air. Always this annual festival has been dear to the hearts of the American people. Always there has been that desire for thanksgiving, and never, I think, has there been more justification, more compulsive need than now.
It is your Day of Thanksgiving, and when we feel the truth of the facts which are before us, that in three or four years the peaceful, peace-loving people of the United States, with all the variety and freedom of their life in such contrast to the iron discipline which has governed many other communities – when we see that in three or four years the United Sates has in sober fact become the greatest military, naval, and air power in the world – that, I say to you in this time of war, is itself a subject for profound thanksgiving.
We are moving forward in this struggle which spreads over all the lands and all the oceans; we are moving forward surely steadily, irresistibly, and perhaps with God's aid, swiftly towards victorious peace.
There again is a fitting reason for thanksgiving, but I have spoken of American thanksgiving. Tonight here, representatives of vaster audiences and greater forces moving outside this hall, it is British and American thanksgiving that we may celebrate today. And why is that? It is because under the compulsion of mysterious and all-powerful destiny we are together.
We are joined together, shedding our blood side by side, struggling for the same ideals, and joined together until the triumph of the great causes which we serve has been made manifest."
Later years and commemorations
After the end of the Second World War, Churchill spent six years as leader of the opposition to Clement Atlee's Labour government of 1945-1951, before being re-elected in 1951 for a second term as Prime Minister.
This rare video footage shows Churchill speaking at an event organised by the Women's National Advisory Committee (now known as the Conservative Women's Organisation) on 27 May 1954, discussing his government's policy of "peace through strength":
Aside from hosting a number of Churchill's speeches, the Royal Albert Hall was also the venue for a big concert on 30 November 1954 to celebrate his 80th birthday, and has welcomed students from his old school Harrow for a number of 'Churchill Songs' concerts, most recently in 2012, to celebrate the most famous Old Harrovian.
Churchill's contribution to the Hall's history has recently been marked by his inclusion in Appearing at the Royal Albert Hall, a new mural on display at the Hall created by Sir Peter Blake.