Royal Albert Hall gives Best British Act Award to Paloma Faith at O2 Silver Clef Awards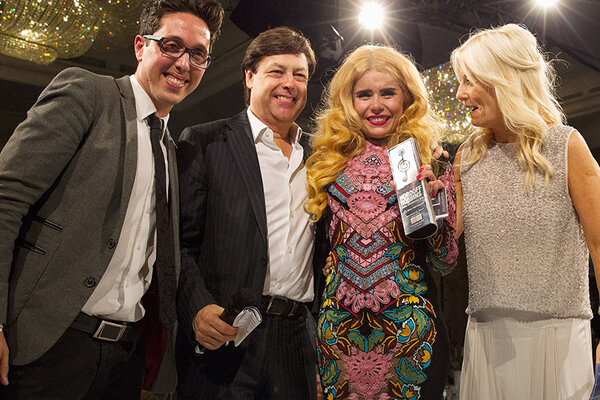 A tearful Paloma Faith collects her Royal Albert Hall Best British Act Award_
The 2014 O2 Silver Clef Awards on 4 July raised over £500,000 for the work of Nordoff Robbins, transforming the lives of vulnerable children and adults through music.
The Royal Albert Hall was delighted to give this year's Best British Act Award to Paloma Faith, who returns to the Hall this summer for a special one-off concert as part of the Proms.
Paloma gave a tearful, funny and self-deprecating acceptance speech in which she thanked her mother for allowing her to be an outsider, her management for supporting the same, and the Hall for presenting her with her first ever award.
VIDEO: Pharrell Williams talks about what music means to him
'Happy' singer*Pharrell Williams* was presented with the Raymond Weil International Award by Bono, whose speech was an ingenious reworking of some of Pharrell's most recognisable lyrics. Giorgio Moroder accepted the American Express Innovation Award, telling the rapt audience that 74 is the new 24. Other artists winning awards who have recently performed at the Hall were Laura Mvula, who returns for another Proms concert on 19 August, and Chas & Dave, whose headlining performance in April brought the house down.
Congratulations to all the winners:
O2 Silver Clef Award
Jimmy Page
Raymond Weil International Award
Pharrell Williams
Royal Albert Hall Best British Act Award
Paloma Faith
American Express Innovation Award
Giorgio Moroder
PPL Classical Award
Gareth Malone
Jack Daniel's Best Newcomer Award
Laura Mvula
Sony Mobile Lifetime Acheivement Award
Sir Tom Jones
Investec Icon Award
Chas & Dave
AEG Live Ambassadors of Rock Award
Black Sabbath