Heroes, help and tough decisions at the Hall during the First World War
Almost no organisation was left untouched by the call to arms during the First World War and the Royal Albert Hall was no exception.
At the time, the Hall's then President Earl Howe was able to report that '…all our employees of military age have come forward to help the country, and I think that is a record of which we may be proud'.  The Hall tried to make it easier for the nine men who eventually went to serve by making them a weekly allowance and keeping their positions open for their return.
Albert Rumbelow
In 1914, cleaner Albert Rumbelow was one of the Hall employees who volunteered to fight. He was married with four young children.
In the summer of 1916, he gained the Distinguished Conduct Medal for 'Conspicuous Gallantry'.  This was an extremely high level award for bravery and the Hall was very proud of his decoration.  Earl Howe, mentioned him in the AGM of 1917, remarking that it was a matter of congratulations.
Sadly, Rumbelow was not lucky enough to see the war out.  He died aged 40, shortly before the end of the war, with his wife Ellen by his side in Preston Hall military hospital in Ashford, Kent, and is buried in the local graveyard with other military personnel.  The Army had a great need for hospitals in the area due to its proximity to the French coast.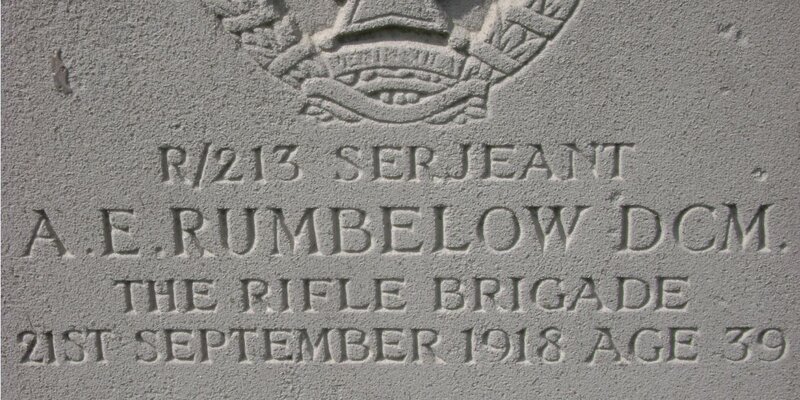 Albert Rumbelow's grave at the War Memorial, High Wycombe
Albert is one of relatively few men who served in the war who was buried on English soil because the government had to take the difficult decision not to repatriate any bodies. The causes of death on his death certificate are unsatisfactory by modern standards stating that he died of 'Modbus Cordis', meaning heart disease and 'Syncope', means loss of consciousness, so he most likely dropped dead of a heart attack – he also had 'Nephritis' (kidney failure).  We can't help feeling that he must have just been exhausted, having been in the trenches for four long years.
Today Albert is remembered in the War Memorial for High Wycombe where he grew up.
No retirement
Other staff that were too old to serve in the war had their own problems – they were not allowed to retire.
In 1917 the Hall, facing its own labour shortage, voted that five men of 60 years of age should not be allowed to retire. These were; J. Birch (Clerk of the Works), S. Fowler (Head Cleaner and Orchestra Attendant), R. Papworth (Electrician and Gasman), E. Dyer (Cleaner), and G. Hill (Fireman). Bearing in mind that the average male life expectancy in 1914 was only 50 years, it seems harsh to deprive these men of what little retirement they had left, but of course these were desperate times.
In 1918, the Hall was finally forced to accept the resignation, '…consequent upon advancing age and ill-health' from Mr Fowler after 47 years of service!
War bonus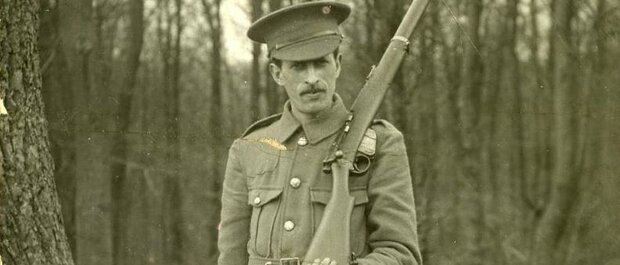 Employee Mr F. M. Snow sent this photo of himself to his Hall during the War
The Hall also agreed to pay its staff a war bonus during the war to help staff with the rising prices at home – it was becoming harder and harder to feed a family. They also agreed to pay a wife of another cleaner, H. Prior, an allowance as he returned from the war unable to work.
Finally, exactly one day after the war ended, the Hall Council voted to give the staff a £200 bonus to be split among them.