How I saved a Prom: Patrick McCarthy's famous Proms rescue of 7 August 1974
It is amazing to think that the famous rescue of Carmina Burana now took place over 40 years ago…
I had been rehearsing my first professional operatic role that day in August and as a regular Prommer I came to the Royal Albert Hall to hear what I hoped would be an evening of class music-making with the LSO and André Previn: the Vaughan Williams' Tallis Fantasia, a new piece by Gordon Crosse and Orff's mighty Carmina Burana – a piece I had sung several times before as a student and which I was interested to hear Thomas Allen, at the time a favourite baritone of mine, perform.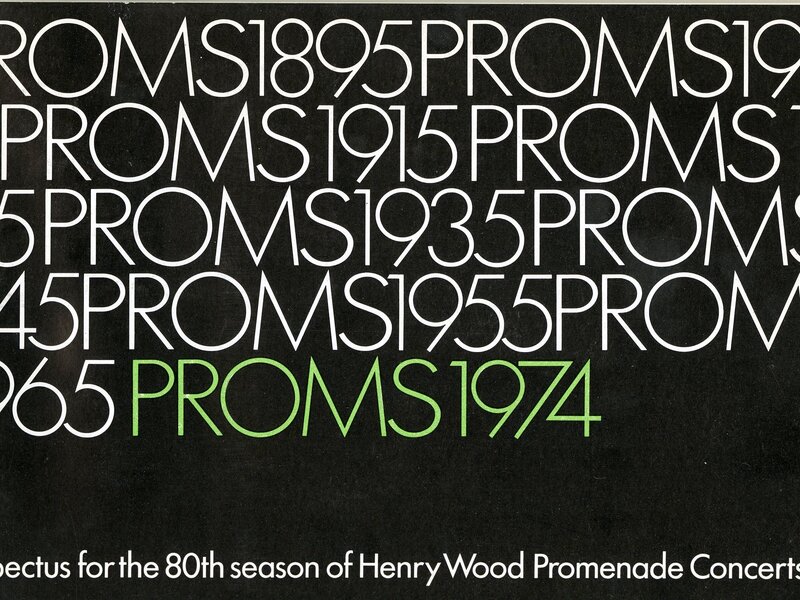 1974 BBC Proms programme
It was a warm evening and as the concert was being telerecorded the TV lights were on. The rest is history. Allen collapsed at the end of his second solo, tried to recover for his third but collapsed again and was taken from the stage. Fellow Prommers urged me to check backstage whether the BBC had a substitute lined up – they didn't and I was shoved onto the stage in a borrowed dinner jacket.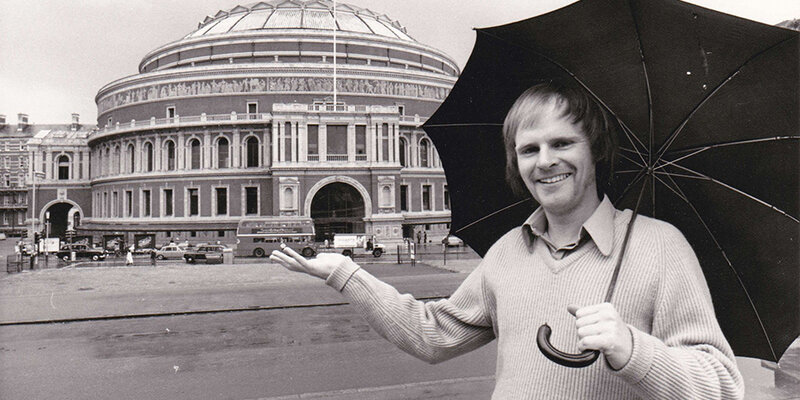 Conductor André Previn wondered whether I was the bringer of bad tidings but was relieved to see me clutching the score. I sang the final four baritone numbers (pretty well – I have a tape to prove it!), received an enormous ovation and retired to the pub with my friends. As a young professional I felt I only did what I was trained to do but the following day I become headline news with newspaper articles, radio and TV interviews and great interest in the forthcoming broadcast.
My mum was at home in Brighton listening to the live broadcast of the concert on the radio and was amazed to recognise my voice over the air. Ironically it turned out that the one other member of the London Symphony Chorus who knew the baritone role was a doctor and had to attend to Tom Allen and was therefore unable to take over!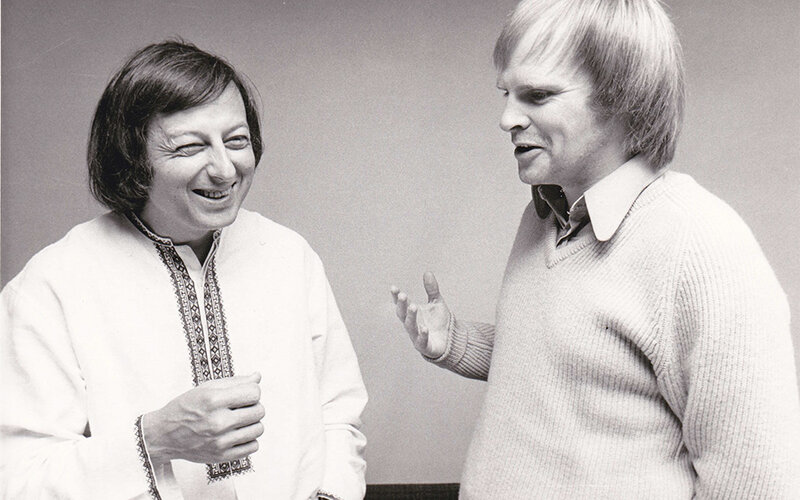 My dear friend, the tenor Anthony Rolfe Johnson, was due to sing Albert Herring a couple of weeks later and kindly invited me to Aldeburgh to see it. I was there a few days, billeted on Britten's physician Dr Ian Tait's household, and Tom Allen was singing the part of Sid in the opera. I had a chance to commiserate with him but his colleagues kept teasing him about the fact I was lurking in the audience!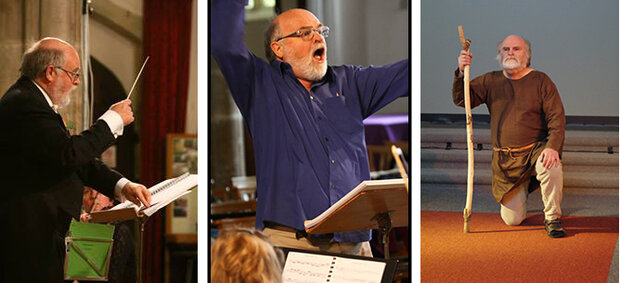 Patrick in a number of projects since his moment on the Hall's stage
So, what have I been doing since then? I worked for many years in opera, mainly in the UK, and have given concerts including quite a few Carminas, and have been heard on CDs. I also diversified by teaching singing and appearing in West End musicals and music hall.
Colchester has been my home for over 30 years and in 1992 I conducted a choir for the first time. I enjoyed it so much I formed my own group, the Colchester Bach Choir, and was soon invited to take over other choirs. This led to my creating an orchestra, the Colchester Philharmonic, and we have given multiple performances at the Harwich Festival and Snape Maltings Concert Hall where I have conducted the St Matthew Passion, Elijah, Solomon, Israel in Egypt and The Dream of Gerontius. Colchester Bach Choir has given concerts for the Mayor of Colchester's charities for over 20 years and these have raised many thousands of pounds.
The Carmina affair is always a talking point, particularly with music lovers over a certain age (I am now 67!) and I am very happy that my name will always be associated with the Proms when I think how much pleasure they have given me over the decades – I went to my first one in 1959!
1974: Prom 20 Programme
Vaughan Williams
Fantasia on a Theme by Thomas Tallis
Gordon Crosse
Ariadne, Op 31
Proms premiere
Orff
Carmina Burana
André Previn conductor
Michael Lankester conductor
Sarah Francis oboe
Gerald English tenor
Thomas Allen / Patrick McCarthy baritone
Sheila Armstrong soprano
Patrick McCarthy baritone
London Symphony Orchestra Chorus
St Clement Danes Boys' Choir
London Symphony Orchestra