Queen Victoria and Prince Albert: a royal romance
The union between Queen Victoria and Prince Albert is one of the greatest love stories in history, memorialised in the historic Royal Albert Hall.
When Victoria and Albert were married on 10 February 1840, Victoria was a 20-year-old young woman who had just become Queen in 1837. Albert of Saxe-Coburg and Gotha too was just 20 years old, and had been picked as Victoria's spouse by her uncle Leopold – the King of Belgium.
Victoria was most pleased with her new husband and wrote to Leopold thanking him for 'the prospect of great happiness you have contributed to give me in the person of dear Albert. He possesses every quality that can be desired to make me perfectly happy.'
Victoria relied heavily on Albert and it was during his lifetime that she was most active as a ruler.  They had a family of nine children, and lived in close harmony for 21 years until Prince Albert's death of typhoid on 14 December 1861.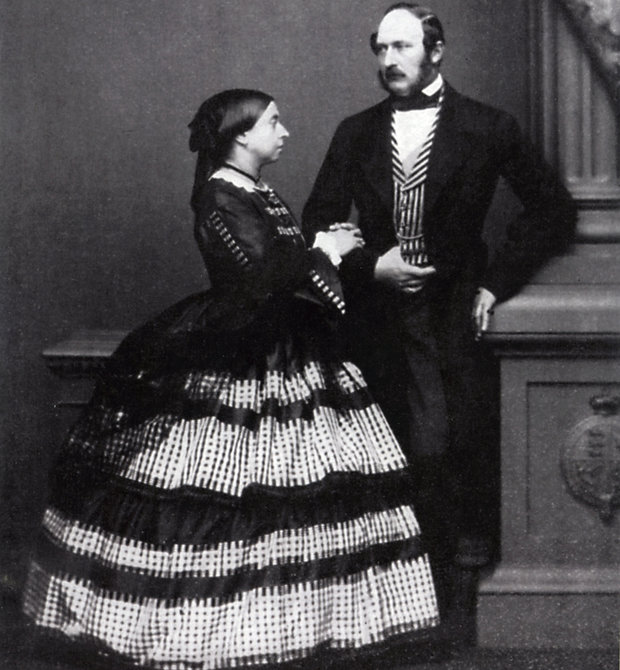 Victoria and Albert in 1861
Before Albert's sudden death, much talk had taken place regarding a 'follow up' to the Great Exhibition of 1851.  Under the eye of Henry Cole, Chairman of the Society for the Encouragement of Arts, Manufactures and Commerce (later the Royal Society of Arts), the event would include a permanent exhibition hall. 
Although the event, scheduled for 1861, did not take place, Cole was still keen for a hall to be built and sought Queen Victoria's permission to do so. This was granted on the proviso that a tangible memorial to her late husband was also built.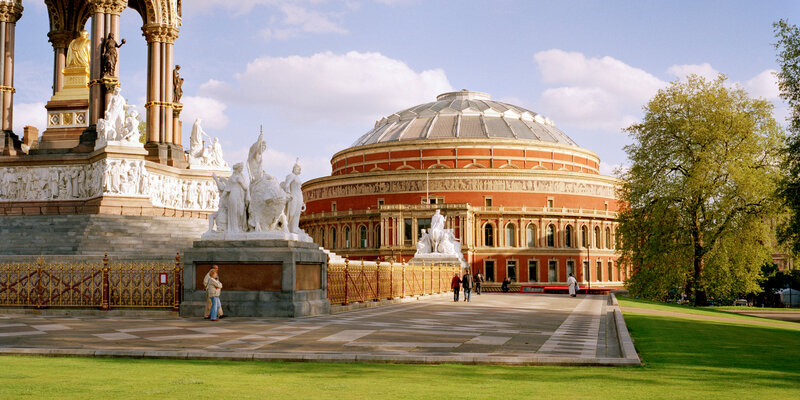 © Marcus Ginns, 2010. The Albert Memorial and the Royal Albert Hall
Work on the Albert Memorial started in 1863, while work on the Hall was delayed until 1867 while funds were raised. 
On 20 May 1867, with one final, romantic gesture Queen Victoria renamed the building that was scheduled to be called the Central Hall of Arts and Sciences. As she laid the foundation stone she said: 'It is my wish that this hall should bear his name to whom it will have owed its existence, and be called The Royal Albert Hall of Arts and Sciences'.
Queen Victoria laying the foundation stone of the Royal Albert Hall in 1867
At the Hall's opening ceremony on 29 March 1871, in front of nearly 10,000 people, the Queen was visibly upset. She only managed to say 'I have to express my great admiration of this beautiful Hall and my earnest wishes for its compete success', before handing the opening of the Royal Albert Hall to her son, the Prince of Wales.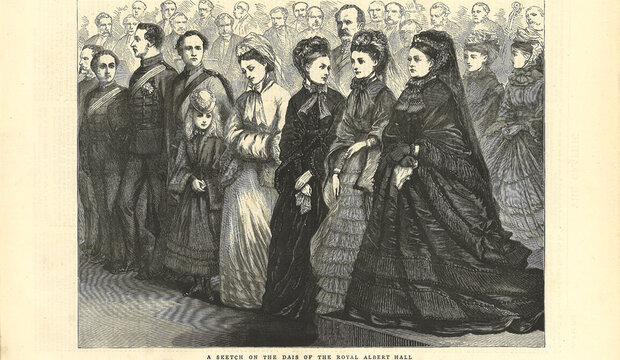 Queen Victoria, still in mourning, at the opening of the Hall in 1871