From the Archives: The Titanic Band Memorial Concert
An emotionally charged Titanic Band Memorial Concert took place on Friday 24 May, 1912 at 3pm, just over a month after the Titanic passenger liner sank beneath the icy Atlantic, causing the deaths of 1,514 people, including the bandmaster, Henry Wallace Hartley, and his men.
The concert was dedicated to the eight heroic musicians who died at their posts, playing as the waters closed over them.
The concert performers were led by seven conductors, including Sir Edward Elgar, Sir Henry Wood, Thomas Beecham and Landon Ronald, and billed as 'the greatest professional orchestra ever assembled'. The players were drawn from seven London orchestras including The Philharmonic Orchestra, The London Symphony Orchestra and The Royal Opera Orchestra, augmented by members of The Orchestral Association, bringing the total number of musicians to 473.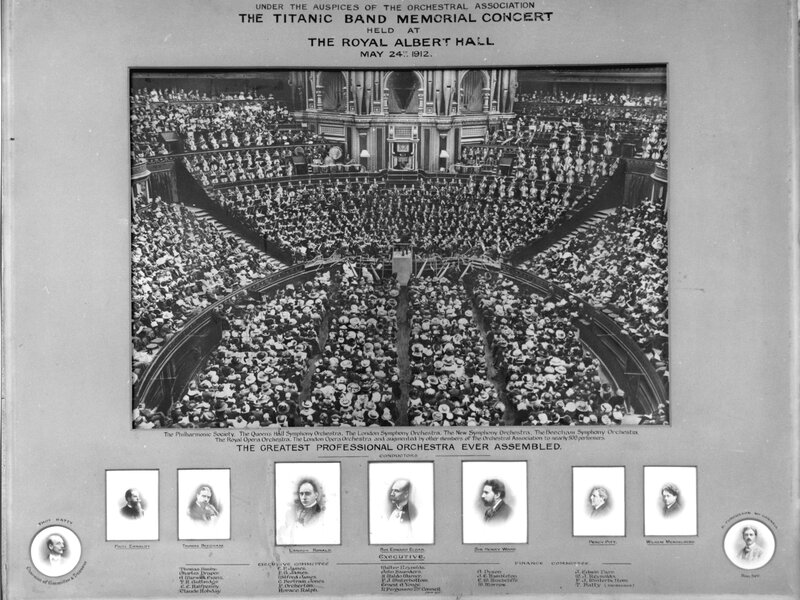 The London Symphony Orchestra had a lucky escape – had been booked on the Titanic to take them for a three week tour of the US and Canada, but due to rescheduling of concerts, they had to leave a week earlier than planned so eventually sailed on the SS Baltic.
On the afternoon of 24 May 1912, Madame Ada Crossley sang Mendelssohn's Oh Rest in the Lord from Elijah, with the rest of the programme consisting of solemn orchestral items including works by Elgar, Tchaikovsky and Wagner, with Chopin's Funeral March and Sullivan's In Memoriam.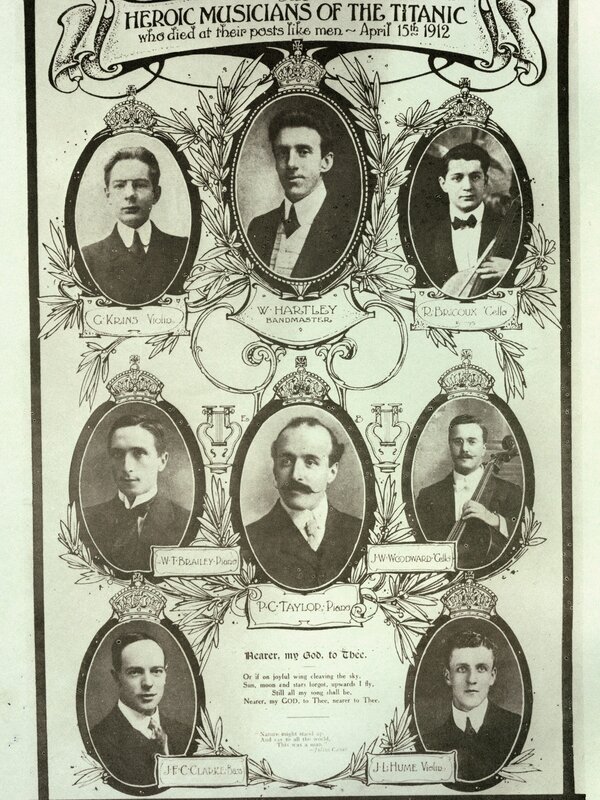 24 May was Empire Day – a public holiday, which would have drawn many families to Hyde Park opposite the Royal Albert Hall. The audience would have arrived on foot, by omnibus or hansom cab, with those in the cheaper seats queuing around the Hall to show their tickets to the top-hatted doormen, before rushing to obtain a place with the best view.
Inside, the auditorium was painted deep crimson with gold and slate embellishments. A printed canvas velarium hung like a huge convolvulus flower from the glass roof to aid the acoustics, and the gallery was draped with red curtains. The auditorium was packed, with the Corps of Honorary Stewards escorting around 7,750 dignitaries, members of the public and families of the bereaved to seats costing from 1 shilling in the Gallery (around £3 today) to 3 guineas for a seat in a box (around £190 today).
The afternoon ended with the enormous orchestra and organ playing at full throttle, while the whole auditorium rose like a congregation to sing Nearer My God to Thee, the hymn that history tells us Hartley and his band were playing as the ship went down. Nearly everyone present was in tears.