Pictures and reaction from Alison Balsom's Albert Session - 13 October 2014
Multi-award-winning trumpet player Alison Balsom returned to the Royal Albert Hall for an Albert Sessions concert on 13 October 2014.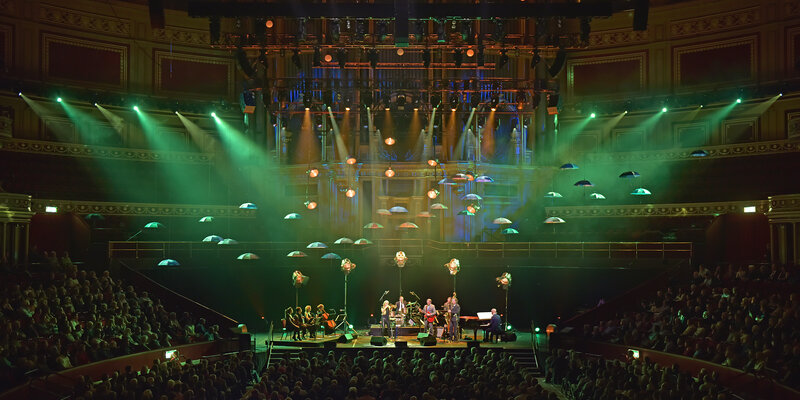 The concert marked Alison's 15th appearance on the world's most famous stage – her first as a headline artist.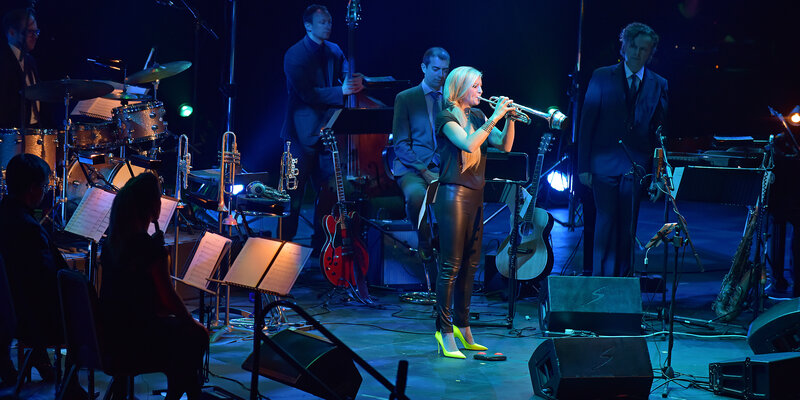 Flanked by a full band, Alison Balsom took the audience on a theatrical journey through Paris, with pieces from her latest album and music close to her heart.
The trumpeter has been working alongside the Royal Albert Hall's Education team to host a series of workshops for young brass players. Each participant has been given a pTrumpet, the world's first 100% plastic trumpet, and will return next year to show Alison how far they playing has advanced by using the instrument.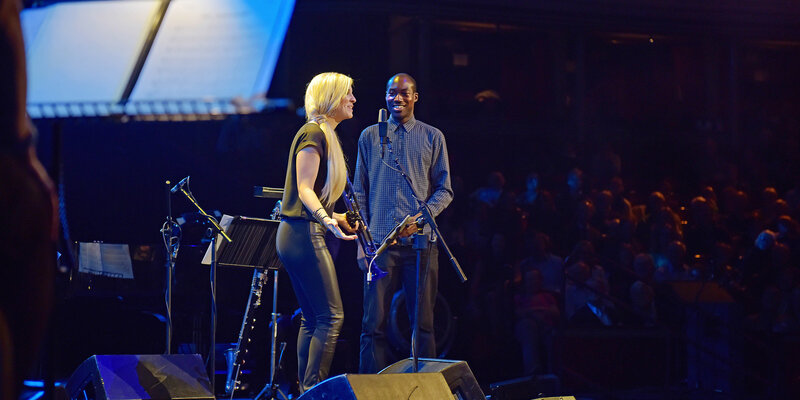 One of the programmes sold on the night enabled one lucky ticketholder to win a pTrumpet. Kofi, the evening's lucky winner, took to the stage to receive his prize.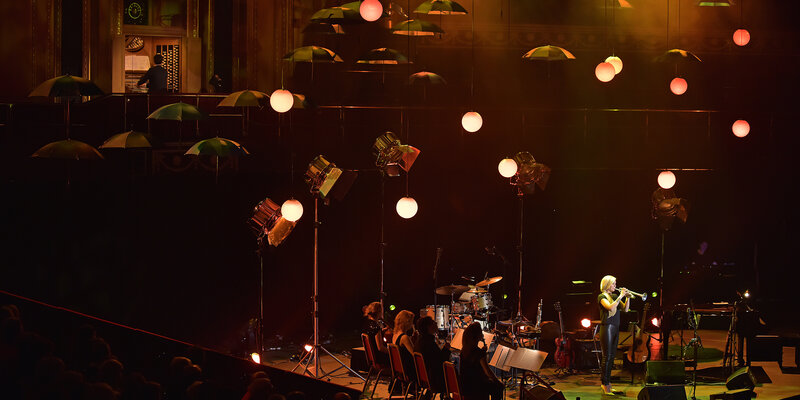 The stage was decorated with umbrellas, echoing a rainy day in a Parisian coffee shop. The 'Voice of Jupiter', the Hall's Grand Organ, was also in use on the night, providing a powerful contribution to the Bach piece that opened the evening.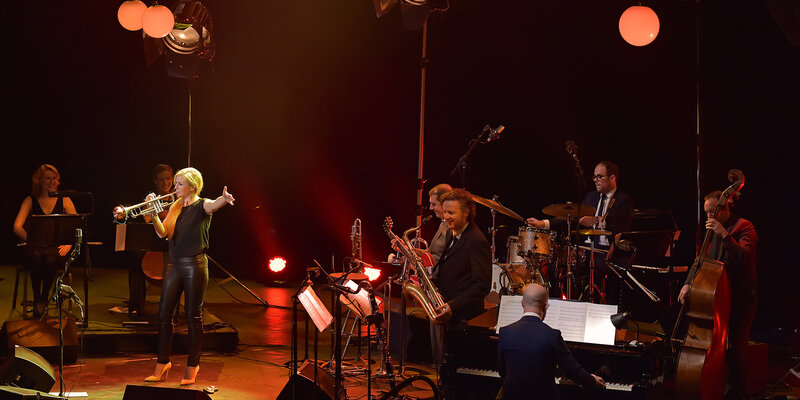 Previous Albert Sessions headliners Nicola Benedetti and Milos joined the thousands in the auditorium to watch the trumpeter's biggest concert to date.
All photos: Paul Sanders, 2014
Top Tweets
Thank you RoyalAlbertHall</a> <a href="https://twitter.com/alisonbalsom">alisonbalsom thepTrumpet</a> for Monday's amazing show! Being taught on stage! <a href="https://twitter.com/hashtag/trumpet?src=hash">#trumpet</a> <a href="https://twitter.com/hashtag/fun?src=hash">#fun</a> <a href="http://t.co/zEnjt7dsr4">pic.twitter.com/zEnjt7dsr4</a></p>— Kofi (kofi_online) October 15, 2014
alisonbalsom</a> beautiful Albert Hall concert last night. We went home smiling and whistling. Thank you so much.</p>— jan morter (CllrJanMorter) October 14, 2014
alisonbalsom</a> Autumn Leaves was so beautiful and Syrinx by Debussy.... wonderful!!! Amazing concert! Lights. Magic scene.!!</p>— Anne Kristin Fosli (trompetfan) October 15, 2014
Approx 2 bars into alisonbalsom</a>'s Debussy, my 9-yr-old, eyes wide, turns and whispers a rather loud, "Wow!" <a href="https://twitter.com/RoyalAlbertHall">RoyalAlbertHall

— Rebecca Asker (@mrsrasker) October 13, 2014
Great night tonight. Well done Magicr121</a> and <a href="https://twitter.com/alisonbalsom">alisonbalsom for making the stage look so amazing and sounding so good. My niece loved it!

— Ollie Jeffery (@JefferyOllie) October 14, 2014
Programme
Bach Allegro bwv 972 (3rd movement)
Debussy Syrinx
Legrand La Valse de Lilas
Duke April in Paris
Piazzolla Oblivion
Eben II. The Green Windows
Brown Joy Spring
Vivaldi Autumn from the Four Seasons (excerpt)
Satie Gymnopédie 3
Eben IV. The Gold Window
A Reinhardt Nuages
Davies If I were a Bell
Kosma/Kern Autumn Leaves/The Way You Look Tonight
Piazzolla Libertango
Gershwin Someone to Watch Over Me