Hall offers careers advice to teenagers
45 teenagers from London schools visited the Royal Albert Hall on 28 February 2014 for a free day of workshops exploring how shows are put on at one of the world's most iconic venues.
The Hall is home to a wide variety of jobs, with everyone from our accountants number crunching on the top floor to the team maintaining our steam heaters in the depths of the building (and everyone in between) being involved in putting on the hundreds of events the building hosts each year.
As teenagers approach adulthood the world of work may seem like a daunting prospect, and with so many possible career paths to follow it can be extremely difficult to know which one to pursue. This unique insight into life at the Hall aimed to increase the students' awareness of the variety of jobs that are available in the arts and what specific roles entail and hopefully helped some of them to be more aware of a professional direction they want to head in.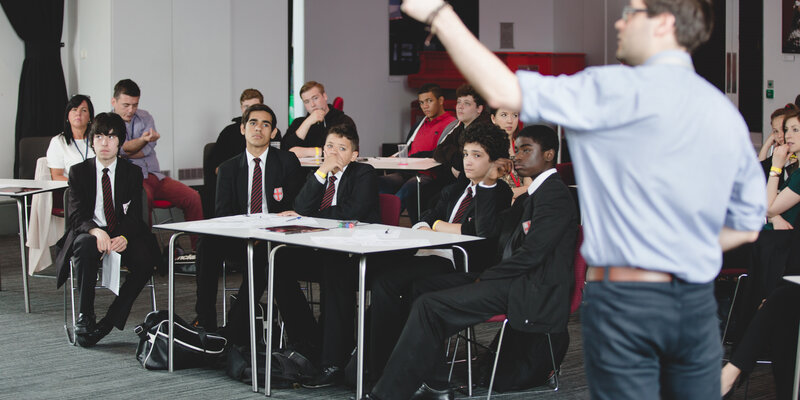 The day, run in partnership with Buckinghamshire New University's hugely successful Event and Festival Management degree course, saw members of Royal Albert Hall staff explain their department's roles before setting the students a variety of tasks, including pitching an event suitable for the Hall's Elgar Room, creating a marketing plan and drafting a letter to a fictional promoter.
The workshops form part of the Hall's extensive education and outreach programme, which recently saw two-time Brit Award nominee Jake Bugg rehearsing and performing with 10 students from the London-based Tri-Borough Music Hub. It also coincided with the news that the Hall is lending its support to a collaborative event industry skills initiative in which members of staff are visiting a variety of London's universities and technical drama schools to provide undergraduates with advice and insights into finding employment within the live events industry. Learn more about this at www.deltasound.co.uk