Jake Bugg holds workshop with 10 young vocalists
A group of young singers assembled in the Royal Albert Hall on 17 February 2014 for a singing workshop hosted by vocal coach Patsy McKay and singer-songwriter Jake Bugg.
The session, held in the Hall's Elgar Room, gave the group the chance to work on their vocals and pick up valuable tips on life in the music business from one of the nation's leading singer-songwriters. Most pressingly, the group was there to rehearse backing vocals for a very special performance of Bugg's song Broken (http://www.youtube.com/watch?v=3EL20VKlvbs) which they will perform on stage with him at his upcoming Albert Sessions concert.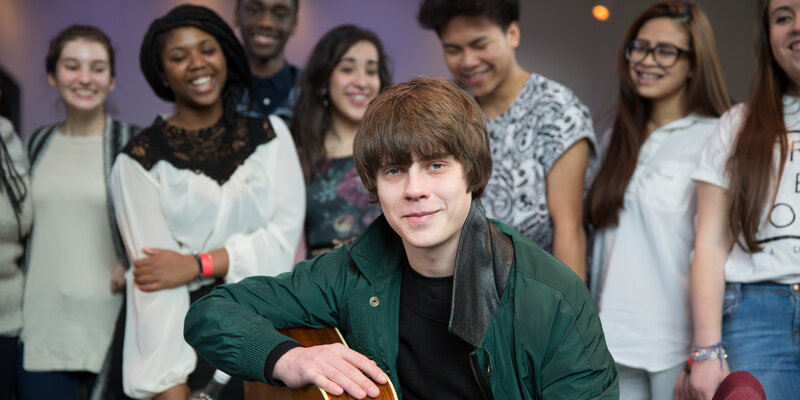 For Bugg, as he recently told XFM, getting involved with the Royal Albert Hall's groundbreaking education programme was "a nice thing to do" and comes in the run-up to his sold-out Albert Sessions concert at the Hall on 21 January 2014, which sees him take to the Hall's stage for the first time.
Speaking at the workshop, the BRIT Award-nominee said: "This event seemed like a great thing to do. The point of it was to show these kids what it's about and get them inspired. I thought it might inspire me as well, and it was inspiring – it's youth, it's vibrant.
I thought the kids sounded great: their accompaniment was exactly what I imagined – a choir part – and they nailed it."
He added that he "couldn't wait" for Friday's gig, saying: "It's an absolute privilege to play the Royal Albert Hall. It's such a beautiful venue, it's going to be special."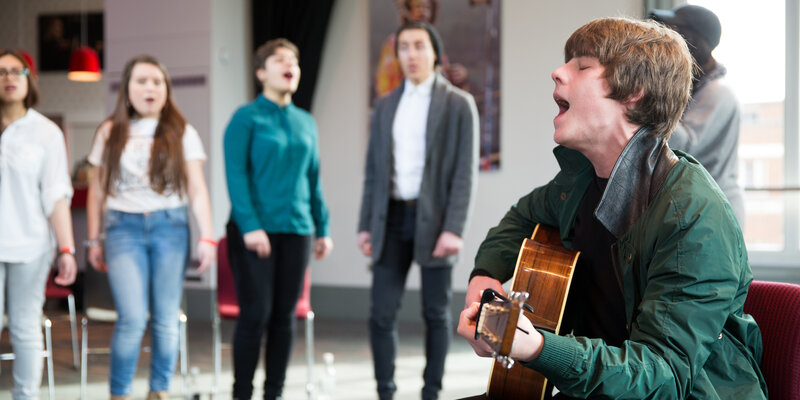 Bugg and his new backing singers. Photo: Andy Paradise 
The young singers set to join Jake Bugg on stage are all from schools in the Tri-Borough Music Hub, and excitement levels were high as they, just like their idol Bugg, prepared to make their Hall debuts:
"It was really good to get advice and inspiration from Jake. He's one of my favourite artists and his songs are great. I was really excited, speechless, when I found out about the workshop and hopefully one day I will be doing the same thing for some teenagers. It's just going to be the best thing: performing in the Royal Albert Hall with someone who inspires you, and in front of such a huge audience – it's a once-in-a-lifetime opportunity." Katie Jimenez, 17, Grey Coat Hospital school.
Like the headline artist himself, some see the prospect of performing on stage at the Hall as a dream coming true:
"It's such an honour. I feel fantastic. It's quite surreal to actually be part of it, to perform in the Royal Albert Hall. I've always had this dream and it's actually happening. It's so bizarre and it's such a privilege." Sahar Bayer, 16, St Marylebone School.
Education & Outreach Programme
Jake Bugg is not the first headline artist to lend their support to the Hall's Education and Outreach programme. The likes of Emeli Sandé, Nicola Benedetti, Metronomy and Foals have all been involved in the programme's performance and songwriting workshops, and yet more will follow in 2014, ahead of the forthcoming Albert Sessions concerts from The 1975 and award-winning trumpeter Alison Balsom.
To learn more about the Hall's Education and Outreach programme, please visit www.royalalberthall.com/education