Albert's Band take to the Big Top stage at Camp Bestival
The Big Top stage is one of the main performance areas at Camp Bestival each year, and with 2014's theme for the three-day family festival being 'The Circus', the Big Top couldn't have been a better setting for Albert's Band to perform their interactive Albert's Travelling Circus Band concert.
Known as "The Greatest Family Show on Earth… at a Castle Campsite by the Sea", Camp Bestival attracts the biggest names in children's entertainment, from Horrible Histories to Mr Tumble.
It also features top-class entertainment for the parents, with this year's featured artists including Laura Mvula, De La Soul, Chas & Dave, Johnny Marr and Basement Jaxx. Set in the beautiful setting of the grounds of Lulworth Castle in Dorset, it is an amazing experience with something for family members of all ages.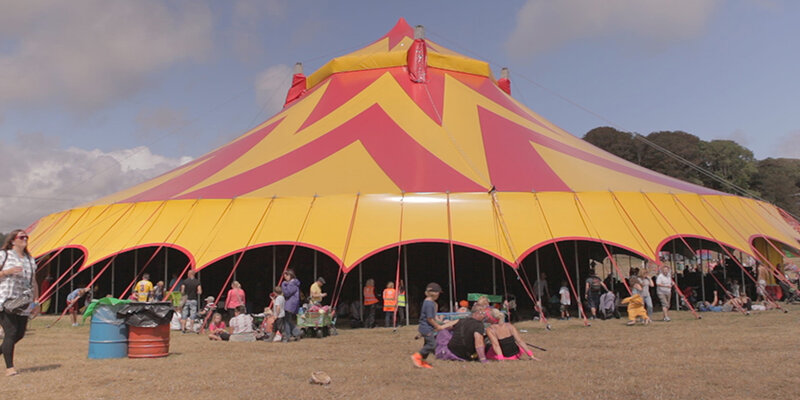 The Big Top stage at Camp Bestival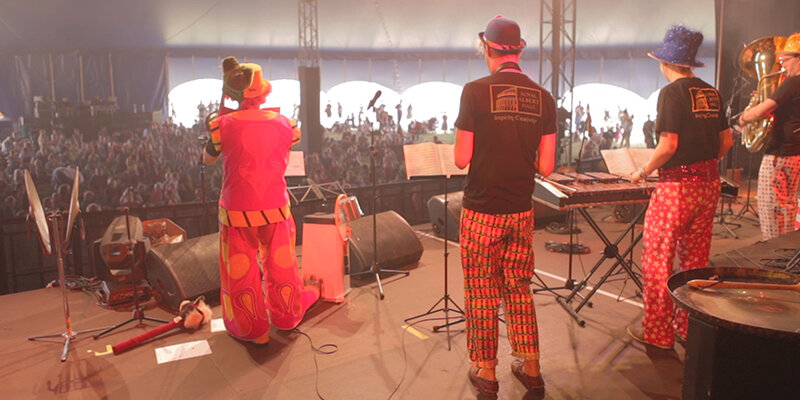 Albert's Band on stage in the Big Top
Albert's Band, the Royal Albert Hall's resident ensemble, was one of the few acts at Camp Bestival to be granted the compliment of two performance slots over the weekend. The band took the opportunity to deliver their usual eclectic mix of wacky performance and audience interaction.
Albert's Band clown Kevin Hathway led the audience through circus music classics, including Entry of the Gladiators, Liberty Bell (the theme music to Monty Python's Flying Circus) and The Acrobat, with lots of audience interaction and participation.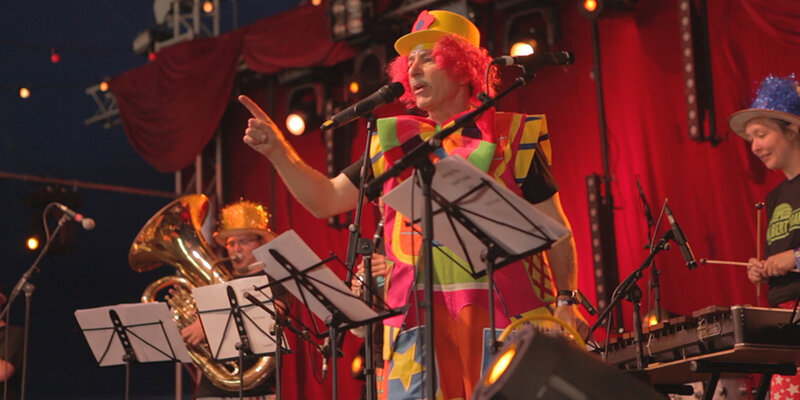 Clowning around: Albert's Band's Kevin Hathway
Despite dramatic thunderstorms on Friday night and Saturday morning, the incredible circus atmosphere kept the clouds away and the sun shining throughout the afternoons. The video below shows how we got on and we hope to see you there in 2015!
Albert's Band are…
Kevin Hathway – Leader/Trombone
Paul Munday – Trumpet
Sophie Lockett – Violin
Harry Cameron-Penny – Clarinet
Mike Poyser – Tuba
Claire Riches – Percussion
Camp Bestival: Top Tweets
Daughter now wants to live CampBestival</a>. Permanently. Best time ever, ever this weekend. Worth the 9 hrs drive !</p>— V Johnson (v_cvjohnson) August 4, 2014
It should be considered as part of patenting classes to take your kids to CampBestival</a> . They will love u forever if u do take them</p>— Lee Collett (irthylee) August 4, 2014
Thx CampBestival</a> for brill wknd. A festival for kids that brought out the kid in us all -a natural playground for expression &amp; imagination</p>— Laura Freeman (lorz18) August 4, 2014
Aaah we love you CampBestival</a> thank you for another smasher. <a href="http://t.co/NomkeOarwc">pic.twitter.com/NomkeOarwc</a></p>— sara cox (sarajcox) August 3, 2014