Royal Albert Hall announces plans to install retractable roof
The world-famous Royal Albert Hall has today announced plans for the biggest transformation of the building since its construction in 1871 – the installation of a retractable roof.
Work is due to begin later this year on the roof's installation, which will transform the auditorium into a multi-climate event space – enabling the Hall to host outdoor events for the first time in its 143-year history.
The project is scheduled for completion in 2021 to coincide with the Hall's 150th birthday.
Inspiration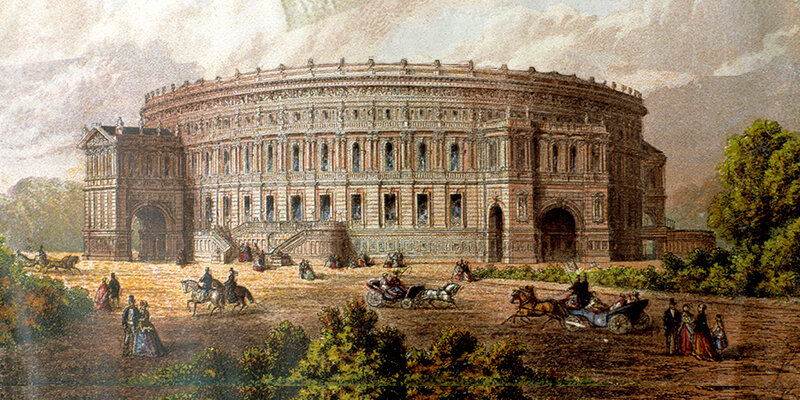 Painting from the 1860s revealing the original plans for a roofless Hall
The idea of this development came about following the discovery of the initial plans for the Hall, which revealed that the building was originally intended to be an open-air space.
It's well known that the Hall's iconic design was heavily inspired by Roman amphitheatres, however without the luxury of an Italian climate, the need for a roof on the London venue became clear very early on. The decision to add a roof was finally made in 1868, following the wettest English summer on record.
Fortunately, with 21st century engineering advances, inspired by the likes of Wembley Stadium and Centre Court, Wimbledon, Prince Albert's dream can now become a reality; the Hall will soon be able to open and close its roof at the press of a button.
Raising the roof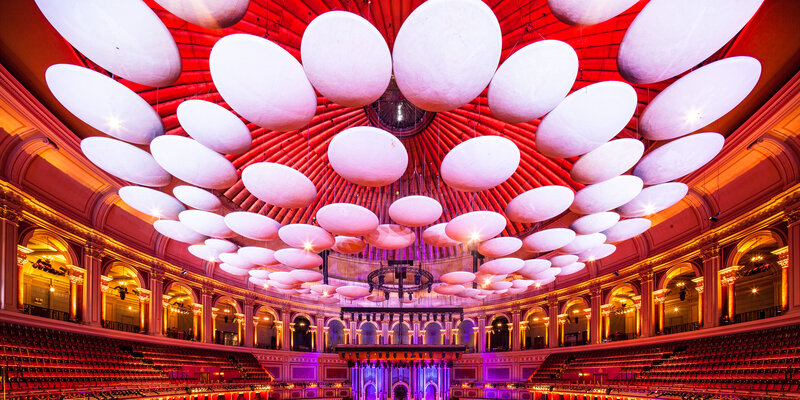 Untouched: When closed, the retractable roof will look exactly the same as before
As many visitors to the Hall will testify, audiences regularly 'raise the roof' with a rapturous ovation to the world-class acts performing on stage, but transforming a venue of the Hall's stature will take a little more than a few class performances.
As a registered charity, one of the Royal Albert Hall's charitable objectives is to ensure the long term maintenance and further development of this important, Grade I Listed building. The Hall's listed status means that, as with the recent installation of its Verdi restaurant, every alteration to the building's fabric must be approved by English Heritage.
The sight of the Hall's famous roof, both from its acoustic 'mushroom'-adorned interior and its stunning exterior, will appear exactly the same when closed following completion – a key criteria of this project's approval. It is only when the roof is opened up when the auditorium will be transformed, with natural light set to flood the iconic auditorium for the first time.
Transformed
An open-air Hall will transform the way that events are programmed at the Hall, with promoters now having the ability to select an indoor or outdoor format for their events, and a number of new events such as grass court tennis and platform diving will soon be able to have their moment on the Hall's prestigious stage.
The roof also finds a solution for a much-asked question of the Hall:
'It's the one question we're asked more than any other – 'when are you going to be able to see clouds from the auditorium?' Now, thanks to state-of-the-art technology, the world's most famous stage can finally take its rightful place outside.'
Jasper Hope, Chief Operating Officer at the Hall